South Florida's #1 Tiki Hut Builder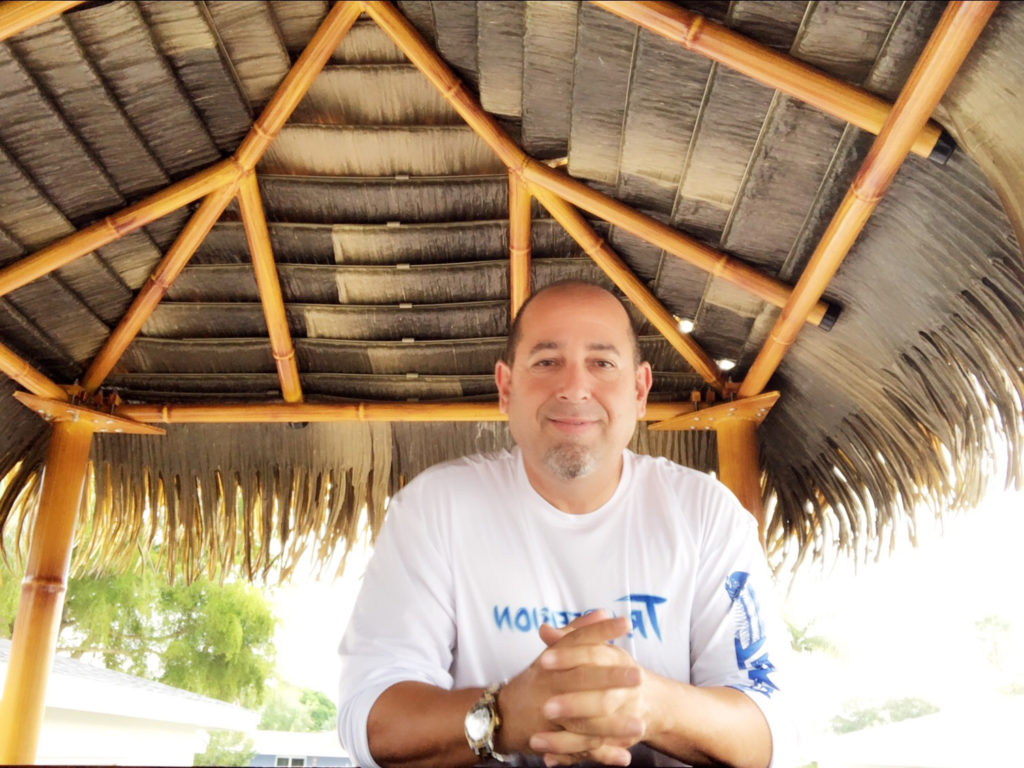 Business Hours
Monday – Sunday 8 am to 8 pm
Open Holidays
Phone:(305) 367-1838
Backyards, Patios, Pools & More...
Dan the Tiki Man and his outdoor tropical paradise design team will assist you in creating the Tiki Hut and outdoor space that you have been dreaming of and that meets your needs. Our Tiki Huts can be built to just about any size and dimension and we offer both natural thatch and synthetic thatch, and the options for both are endless. While our natural palm thatch is very popular, many people are choosing our synthetic thatch. Our synthetic option has no fire hazard and doesn't shed. In addition, we offer a variety of stain and seal packages that will protect your Tiki Hut for years to come. Whether this is for your home or business, you will enjoy being in an environment that feels like a vacation.
Our Tiki Huts are perfect for any and all Residential homes, such as a backyard umbrella, poolside bar, poolside pavilion, and much more!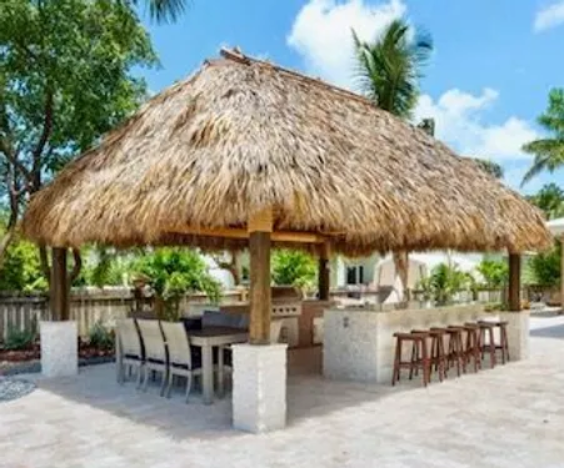 One of the oldest, most traditional types of roofing materials, Palm thatch, is our most widely used thatch.  
It is a replenish-able resource making it eco-friendly and because temperatures under the palm thatch structure can be 15-20 degrees cooler than outside, it makes for an economical outdoor living space and investment.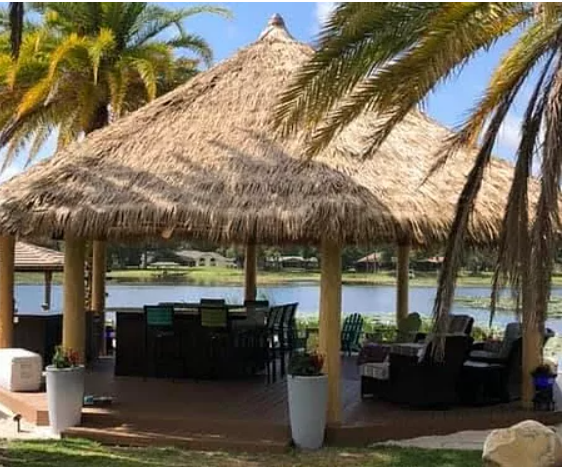 The Synthetic palm thatch that can be used as an alternative to natural thatch. It is the perfect solution for covering your tiki hut, palapa, gazebo, cabana, tiki bar or any structure that you would like to give a tropical look and feel to.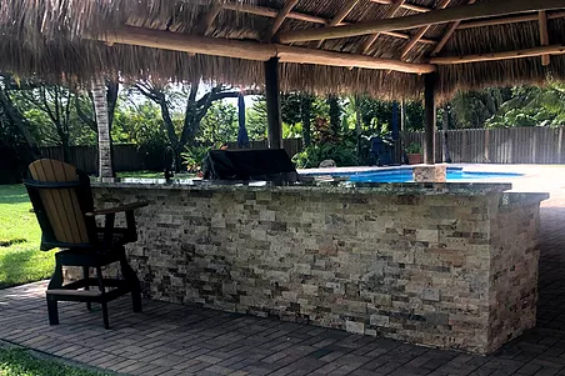 Ready to become the envy of all your neighbors and friends? Our team is ready to help you design a Tiki Bar that is sure to become the focal point of your backyard or business. Who doesn't love to walk up to the inviting shade of a Tiki Bar for a cool refreshing drink? As with our Tiki Huts all Tiki Bars come with our guarantee of quality workmanship and a lengthy warranty.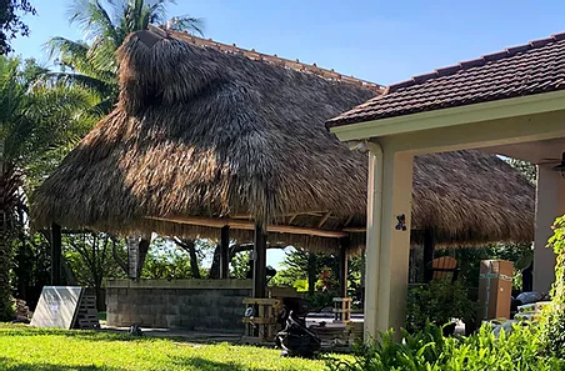 One of the most common issues or problems with tiki huts is that with time, it will need a tiki hut rethatching and maintenance. Dan the Tiki Man offers high-quality rethatching services at competitive prices. Our experts have more than 15+ years of experience when it comes to tiki hut rethatching and maintenance services so you can rely on the fact that your project will be handled by experienced professionals.
Permitted And Indian Authenticated Tiki Huts
Most municipalities allow a Tiki hut under a certain size to be built without a permit. However, some areas require permits while others require that your Tiki hut be Indian authenticated. You may be subject to fines and you will be required to tear down and remove an illegal Tiki hut. We know the laws in your neighborhood and we take care of permitting and authentication for you. An unlicensed contractor may save you a few hundred dollars only to wind up costing you many thousands later.
Not Just Tiki Huts, But Tiki Bars, Tiki Cabanas, And More
Tiki huts have been around in Florida for as long as 14,000 years, since the first Native Americans settled here. While traditional Tiki huts, otherwise known as Chickee huts, are the most common design in Florida, there are an endless number of ways to use thatch building to create cool outdoor structures. We can design and build Tiki breezeways, Tiki loggias, Tiki porches, Tiki cabanas, Tiki awnings, Tiki picnic areas, and commercial-use designs, such as large Tiki bars and Tiki bandstands. The sky is the limit when it comes to designing and building tropical Tiki huts that withstand the weather and elements far better than synthetic materials.
We know how to use virtually all thatch materials, from woven Mexican Raincape used in a Palapa thatch, to desert palm leaves used in Tahiti-style thatch panels. This means that we have the option of choosing the best materials and thatch techniques for your unique vision. In fact, in rare instances, we have even recommended the use of synthetic palm thatch instead of natural thatch.
Our expertise guarantees that you will always have the best product to transform your dreams into a reality for years to come for your residential or commercial use.
A small river named Duden flows by their place and supplies it with the necessary regelialia. It is a paradisematic country, in which roasted parts of sentences