BACK YARD DESIGN & RENOVATION
Your backyard experts has partnered with some of well known Landscape Architects like Landform Landscape Architect. Malcolm Miller. Designer of Caribbean resorts and Island Theme Installation.
Your "Dan The Tiki Man" Tiki Hut Will Last, Beautifully
Your "Dan The Tiki Man" Tiki hut will be built by our employees, not subcontractors. We use top-grade pressure-treated cypress posts with a three-year no drip warranty.
We use only new, green posts to eliminate the risk of termites that is common with older or used posts. The thatch roof will be constructed using full Sabal palm fronds grown in Florida, not cheaper and less weather-resistant varieties or partial fronds used by some of our competitors.
Our Tiki huts are wind and rain resistant and allow hot air to escape, providing cool shade during even the hottest months. Even with the extreme Florida weather, you can expect your "Dan The Tiki Man" Tiki hut thatch roof to last eight to ten years without re-thatching. Most of our competitors' roofs last less than five years.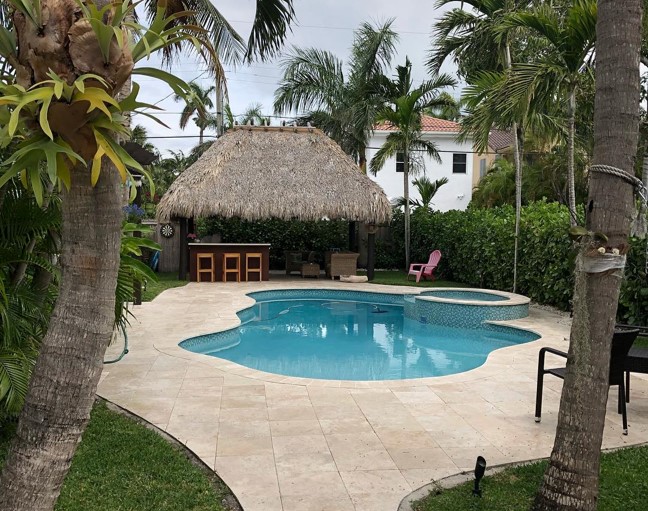 Permitted And Indian Authenticated Tiki Huts
Most municipalities allow a Tiki hut under a certain size to be built without a permit. However, some areas require permits while others require that your Tiki hut be Indian authenticated. You may be subject to fines and you will be required to tear down and remove an illegal Tiki hut. We know the laws in your neighborhood and we take care of permitting and authentication for you. An unlicensed contractor may save you a few hundred dollars only to wind up costing you many thousands later.
Not Just Tiki Huts, But Tiki Bars, Tiki Cabanas, And More
Tiki huts have been around in Florida for as long as 14,000 years, since the first Native Americans settled here. While traditional Tiki huts, otherwise known as Chickee huts, are the most common design in Florida, there are an endless number of ways to use thatch building to create cool outdoor structures. We can design and build Tiki breezeways, Tiki loggias, Tiki porches, Tiki cabanas, Tiki awnings, Tiki picnic areas, and commercial-use designs, such as large Tiki bars and Tiki bandstands. The sky is the limit when it comes to designing and building tropical Tiki huts that withstand the weather and elements far better than synthetic materials.
We know how to use virtually all thatch materials, from woven Mexican Raincape used in a Palapa thatch, to desert palm leaves used in Tahiti-style thatch panels. This means that we have the option of choosing the best materials and thatch techniques for your unique vision. In fact, in rare instances, we have even recommended the use of synthetic palm thatch instead of natural thatch.
Our expertise guarantees that you will always have the best product to transform your dreams into a reality for years to come for your residential or commercial use.
A small river named Duden flows by their place and supplies it with the necessary regelialia. It is a paradisematic country, in which roasted parts of sentences