SOUTH FLORIDA RESIDENTIAL - TIKI HUT SERVICES
Backyards, Patios, Pools & More...
Dan the Tiki Man and his outdoor tropical paradise design team will assist you in creating the Tiki Hut and outdoor space that you have been dreaming of and that meets your needs. Our Tiki Huts can be built to just about any size and dimension and we offer both natural thatch and synthetic thatch, and the options for both are endless. While our natural palm thatch is very popular, many people are choosing our synthetic thatch. Our synthetic option has no fire hazard and doesn't shed. In addition, we offer a variety of stain and seal packages that will protect your Tiki Hut for years to come. Whether this is for your home or business, you will enjoy being in an environment that feels like a vacation.
We have been bringing the lost art of Chickee hut construction to modern luxury residences since 2005. While we have been called to re-thatch or repair tiki huts built by our competitors, we have never had to go back and repair one we built ourselves.
All tiki huts require some re-thatching for tiki hut maintenance, but properly constructed tiki huts should last at least a decade without massive rehabilitation.
South Florida has been an amazing place to vacation, have a second home and even for current residents, raising a family. We build sets and scenery for themed environments, special events, businesses, restaurants, residential homes, and venues. Because we have access to our own eco-friendly materials locally, we can come in and get your thatched themed built very quickly so you don't waste valuable production time.
Our Tiki Huts are perfect for any and all Residential homes, such as a backyard umbrella, poolside bar, poolside pavilion, and much more!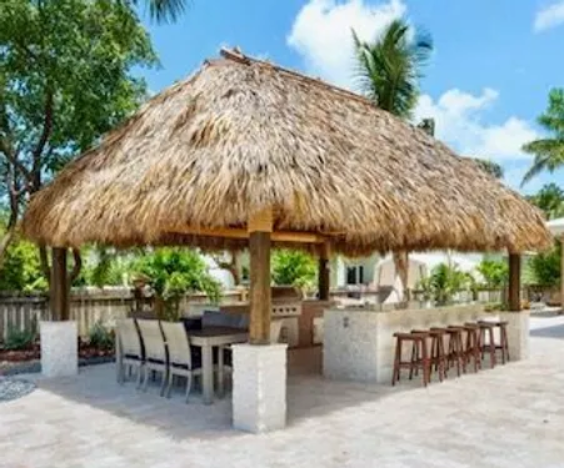 One of the oldest, most traditional types of roofing materials, Palm thatch, is our most widely used thatch.  
It is a replenish-able resource making it eco-friendly and because temperatures under the palm thatch structure can be 15-20 degrees cooler than outside, it makes for an economical outdoor living space and investment.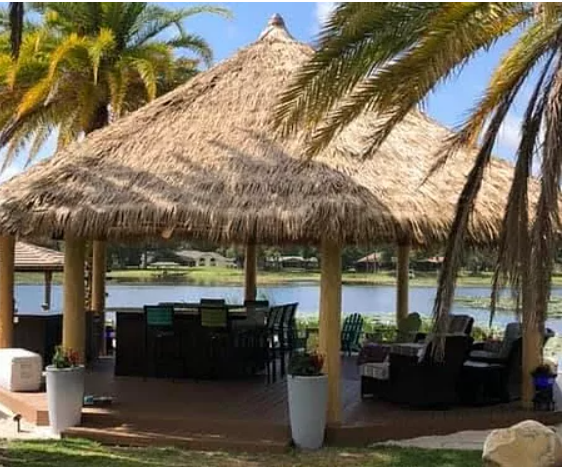 The Synthetic palm thatch that can be used as an alternative to natural thatch. It is the perfect solution for covering your tiki hut, palapa, gazebo, cabana, tiki bar or any structure that you would like to give a tropical look and feel to.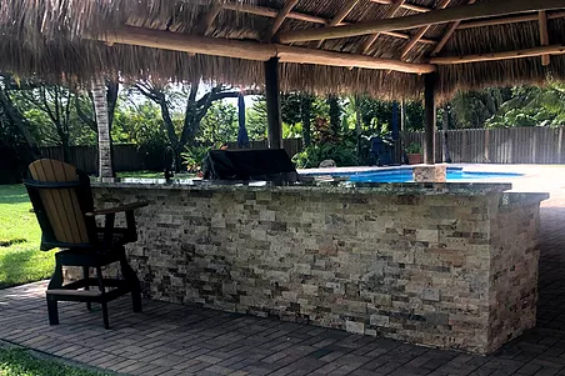 Ready to become the envy of all your neighbors and friends? Our team is ready to help you design a Tiki Bar that is sure to become the focal point of your backyard or business. Who doesn't love to walk up to the inviting shade of a Tiki Bar for a cool refreshing drink? As with our Tiki Huts all Tiki Bars come with our guarantee of quality workmanship and a lengthy warranty.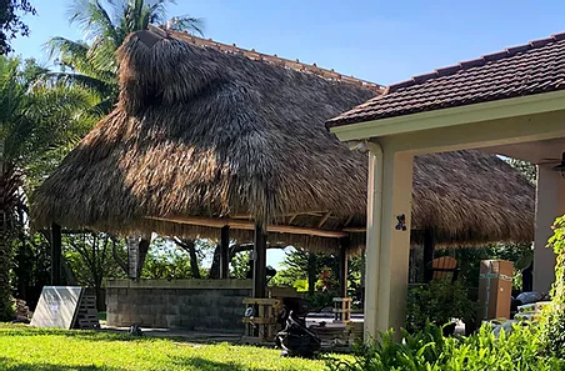 One of the most common issues or problems with tiki huts is that with time, it will need a tiki hut rethatching and maintenance. Dan the Tiki Man offers high-quality rethatching services at competitive prices. Our experts have more than 15+ years of experience when it comes to tiki hut rethatching and maintenance services so you can rely on the fact that your project will be handled by experienced professionals.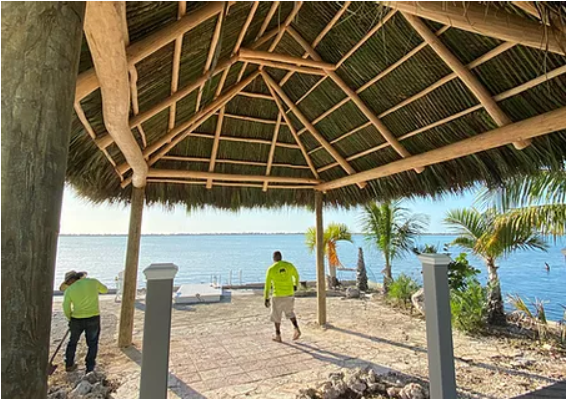 Already have a Tiki Hut or bar that needs a little attention? No problem. Dan the Tiki Man will find the most affordable way to make your old Tiki Hut look brand new again.
All genuine tiki huts, Miccosukee Chickee huts, and thatched gazebos require maintenance. A properly built tiki hut will require less maintenance over its lifespan. Usually, this means re-thatching of the roof and walls (if it has walls) with the appropriate natural materials.
Synthetic tiki huts do not require maintenance and adds to a beautiful ambiance and charm of a real tiki hut.

Our Tiki Huts included Ten Year Structural Warranty and Three Year No Drip Guarantee. Dan The Tiki Man thatched huts are built to stand up to even the harshest South Florida weather. Our experienced team also does expert re-thatching and replacement of thatch panels. We will inspect your tiki hut for loose or missing thatch panels. We also check for signs of leaks, mildew, rot, and pests such as termites. We have re-thatched tiki huts, thatched gazebos, and commercial tiki huts throughout South Florida. Our clients include both high-end residential customers and commercial enterprises such as bars and other public venues. We offer an affordable way to extend the life of your thatched hut. We will turn your tired-looking, old tiki hut into a fresh place to unwind in tropical splendor.
We can replace damaged wood. Occasionally we can even replace Florida native cypress poles. We are experts in the process of stripping cypress poles to leave the classic blonde finish, or we can provide expertly carved totem-type poles
. Our tiki hut specials have designed and constructed everything from high-thatched buildings for South Florida luxury homes to hospitality and entertainment commercial tiki huts.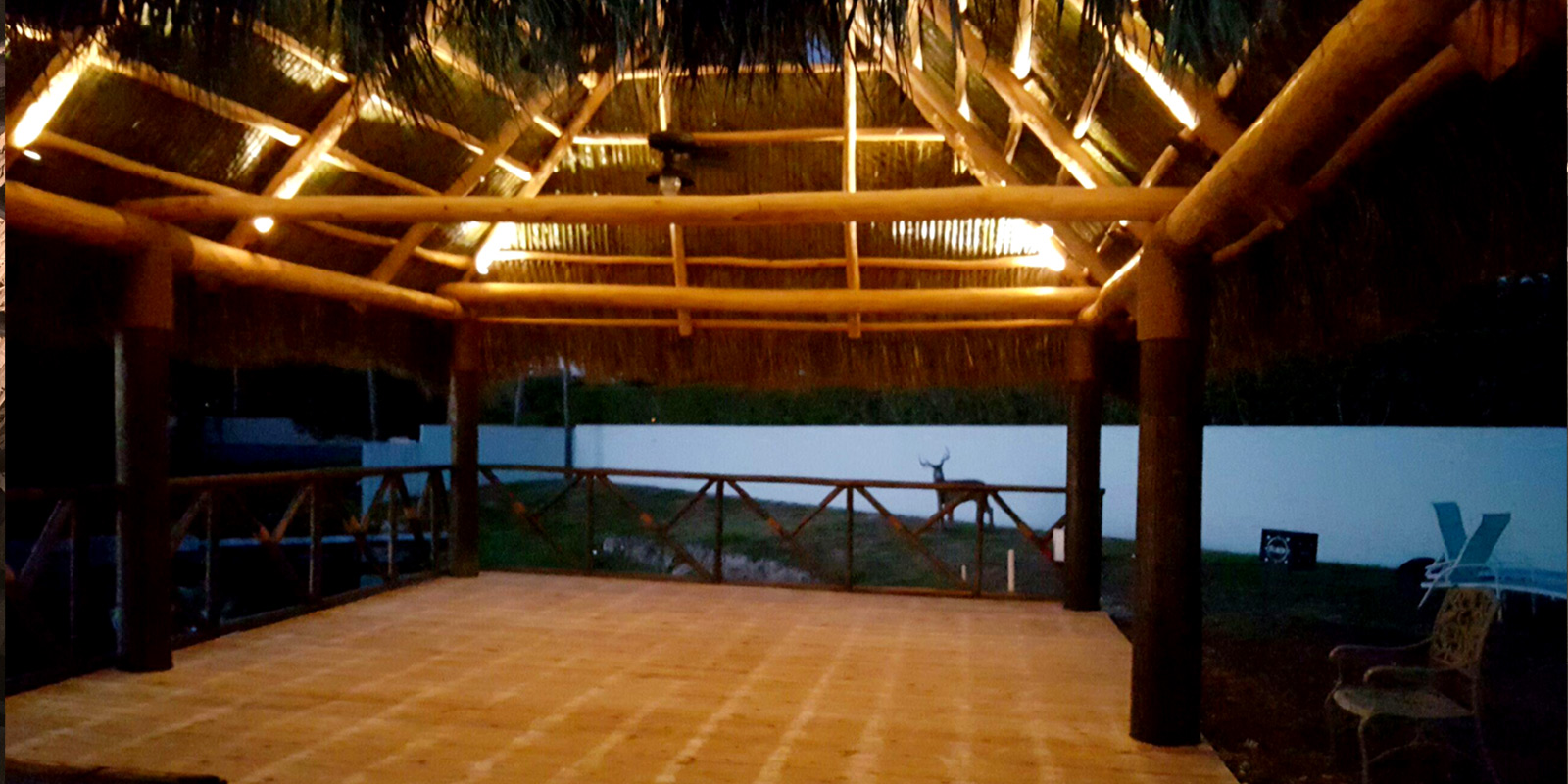 We have been bringing the lost art of Chikee hut construction to modern luxury residences since 2005. While we have been called to re-thatch or repair Tiki huts built by our competitors, we have never had to go back and repair one we built ourselves. All Tiki huts require some re-thatching for tiki hut maintenance, but properly constructed Tiki huts should last at least a decade without massive rehabilitation. We are frequently called upon to repair a Tiki hut built by a cheaper competitor.
In more cases than not, we have the unpleasant task of telling the homeowner that the structure is beyond repair because termite-infested wood or improperly laid thatches were used.
Just because Tiki huts look simple doesn't mean they are easy to build correctly. A big part of the project and the cost is in the materials. Quality, green cypress logs, and vermin-free thatching are more expensive, but they prolong the life of your Tiki hut. Quality may not be visible the first year your Tiki hut is built, but we guarantee a lack of quality will be painfully apparent five years down the road.
Your "Dan The Tiki Man" Tiki Hut Will Last, Beautifully
Your "Dan The Tiki Man" Tiki hut will be built by our employees, not subcontractors. We use top-grade pressure-treated cypress posts with a three-year no drip warranty.
We use only new, green posts to eliminate the risk of termites that is common with older or used posts. The thatch roof will be constructed using full Sabal palm fronds grown in Florida, not cheaper and less weather-resistant varieties or partial fronds used by some of our competitors.
Our Tiki huts are wind and rain resistant and allow hot air to escape, providing cool shade during even the hottest months. Even with the extreme Florida weather, you can expect your "Dan The Tiki Man" Tiki hut thatch roof to last eight to ten years without re-thatching. Most of our competitors' roofs last less than five years.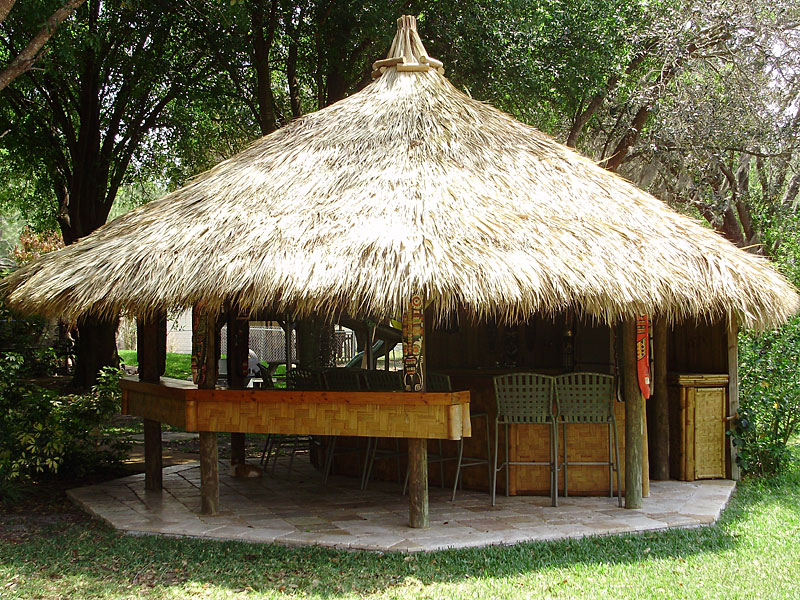 Permitted And Indian Authenticated Tiki Huts
Most municipalities allow a Tiki hut under a certain size to be built without a permit. However, some areas require permits while others require that your Tiki hut be Indian authenticated. You may be subject to fines and you will be required to tear down and remove an illegal Tiki hut. We know the laws in your neighborhood and we take care of permitting processing for you. An unlicensed contractor may save you a few hundred dollars only to wind up costing you many thousands later.
Not Just Tiki Huts, But Tiki Bars,
Tiki Cabanas, And More
Tiki huts have been around in Florida for as long as 14,000 years, since the first Native Americans settled here. While traditional Tiki huts, otherwise known as Chickee huts, are the most common design in Florida, there are an endless number of ways to use thatch building to create cool outdoor structures. We can design and build Tiki breezeways, Tiki loggias, Tiki porches, Tiki cabanas, Tiki awnings, Tiki picnic areas, and commercial-use designs, such as large Tiki bars and Tiki bandstands. The sky is the limit when it comes to designing and building tropical Tiki huts that withstand the weather and elements. .
We know how to use virtually all thatch materials, from woven Mexican Raincape used in a Palapa thatch, to desert palm leaves used in Tahiti-style thatch panels. This means that we have the option of choosing the best materials and thatch techniques for your unique vision. In fact, in rare instances, we have even recommended the use of synthetic palm thatch instead of natural thatch.
Our expertise guarantees that you will always have the best product to transform your dreams into a reality for years to come for your residential or commercial use.