Your Florida
Tiki Hut & Pool Builder
Servicing Bahamas, Abacos & Caribbean Islands
We Specialize in Creating a Tropical Paradise Right in Your Backyard!​
When you're looking for a Tiki Hut in Key West, Key Largo, Marathon Key, Miami, Fort Lauderdale, Palm Beach
or Vero Beach that will last for years, contact Dan The Tiki Man…!
We Set The Standard For Florida Tiki Huts
Dan the Tiki Man and his Tropical Paradise Team  will design and build beautifully crafted custom Tiki huts, cabanas, breezeways, bars and more. If you can imagine it, we can build it using thatched construction techniques. Thatched roof, pole-supported structures are used throughout the world's tropical and dry heat climates. Our Tiki Huts can be built to almost any size and dimension and offer both, native thatch and synthetic thatch with endless options.
While other palm thatches are used in California, Mexico, and Polynesia, only one species of palm produces the right thatch for Florida's humid and stormy weather: the Sabal palm, sometimes called the cabbage palm, Sabal palmetto palm, or swamp cabbage (Arecaceae, genus Sabal). We obtain our Sabal palms locally and source and use new cypress logs, which we strip and prep ourselves. This means we can be sure your new Tiki Hut will be free of termites or other problems that can shorten the lifespan of your Tiki hut and disrupt your cool enjoyment of Florida's outdoor lifestyle.
Our synthetic thatch has no fire hazard and doesn't shed. In addition, we offer a variety of stain and seal packages that will protect your Tiki Hut for years to come.
What Sets Us Apart From Other Tiki Hut Builders…
Backyards, Patios, Pools & More...
While there are many Tiki hut builders in Florida, we pride ourselves on doing it the right way. We use only top-grade posts and hand-selected Sabal palm thatching grown under our control in Florida. We stand firm on quality and never compromise the materials or the workmanship in order to beat someone's price. We aren't the cheapest Tiki hut builders in Florida, but we are the best and our Tiki huts last as long as ten years under the harshest conditions. We are fully licensed and insured and are approved as a builder of Indian authentic Tiki huts. We have the ability to provide of building a fire-retardant Tiki hut for commercial use, such as a restaurant or hotel. And unlike 90% of our competition, we do not use subcontractors. Our workers are highly trained, skilled, experienced and they have been with us for years.
Our Residential Tiki Huts are perfect for any home. Some of the designs we offer are Backyard Umbrellas, Poolside Bars, Pavillions and much more! Let your Tiki Bar become your own personal retreat once Dan the Tiki Man transforms you back yard into a Tropical Paradise.
Just because Tiki huts look simple doesn't mean they are easy to build correctly. A big part of the project and the cost is in the materials. Quality, green cypress logs, and vermin-free thatching are more expensive, but they prolong the life of your Tiki hut. Quality may not be visible the first year your Tiki hut is built, but we guarantee a lack of quality will be painfully apparent five years down the road.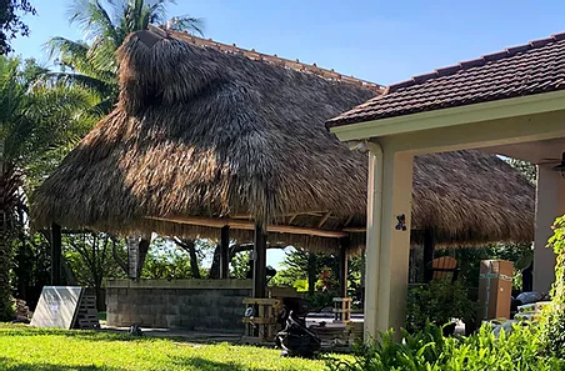 Tiki huts often violate South Florida zoning rules October 6, 2012|By Maria Herrera, Sun Sentinel ...
Time to decorate Your TikiHut Grab a drink and a book and make your Tiki Huts space your favorite e...
Bring indoor tiki huts comfort and safety Weather can be a big issue when it comes to outdoor enter...